All managers have the option to 
publish
 any subset of the libraries that they have access to under their username.
For example, if user1 published library3 and library4, then those libraries would be publicly accessible at: https://user1.libib.com
The pro published page shown below, has additional features available to it: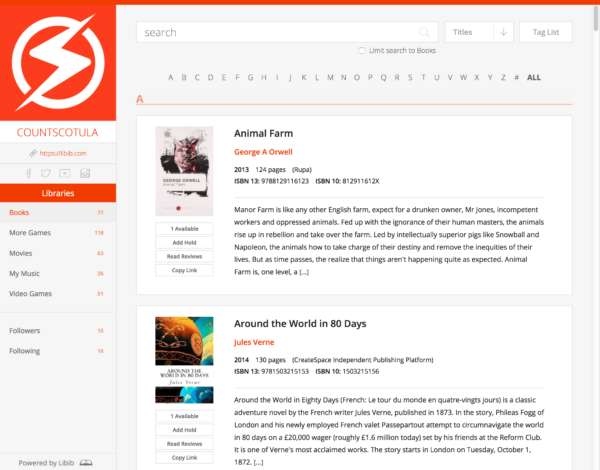 Exposing searching, tags, additional meta-data, logos, removing the feed, social icons, sorting, links, placing holds, and availability.
Public pages are viewable by the public at large, if they have the URL to access.
From here your patrons can discover the items in your library by simply browsing, or using or relevancy-based search options. If you have tags, they can help patrons filter down which items specifically they're looking.
From here patrons have the option (if enabled), to place items on hold – and the managers can choose to be notified each time an item is placed on hold as well. Holds can be placed even if the item is already checked out, and an availability button will note when it is expected to be back in stock.