Patron CSV Import Template
Adding patrons can be done in one of four ways:
You can use the Quick Patron Add on the lending page, which only lets you enter in the name and email.
You can go the patrons page, and click on Add Patron to enter in more details about the user.
Options on the Add Patron page:
Barcode (Unique – numbers only – minimum 5 digits, maximum 15)

Most accounts should not create their own barcodes – Libib will auto-assign

First name
Last name
Email (Unique – required if patron is to place holds, self-checkout or to login on the published library)
Notification Email (Non-unique – overrides 'email' for patron notifications but does not allow login). Up to 3 emails can be added, comma separated.
Patron ID (Non-unique – allows you to assign searchable IDs to a patron)
Password (Edit page only – patrons typically set their own passwords on the published library page. However a manager may overwrite or set a patron password after a patron has been created on the patron edit page.)
Phone
Address 1
Address 2
City
Country
State/Region
Zip Code
3. 
Account Owners
 have the ability to import patron csv files. In order for an import to occur, the file 
must include
 a first and last name. Emails, if included, must be unique. Notification emails are optional, and do not need to be unique (multiple students for example, could have due date notifications go to their parents email – however the notification email does not allow logins).The fields listed above are the allowed columns. You can download a 
csv template here
. Barcodes are not included in the template, but you can add that column if needed – most accounts should not create their own barcodes – Libib will auto-assign.
After you upload a csv file, you will be directed to double-check your values, and that they align with Libib's values.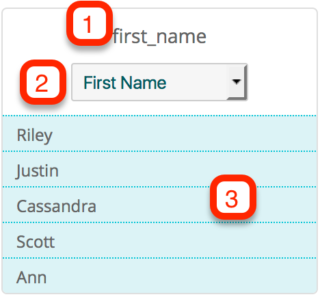 The name of your csv column.
A drop down list of possible matches that Libib will recognize.
If there is "no match found", Libib will ignore it.
The first 5 rows of your csv's data for review.
Technical note: If there are non-latin characters in the CSV file, you must ensure that the file has a UTF-8 encoding for the import to work.
4. Patrons can also be added through our
REST API
. Generally some knowledge of programming is required to use this approach.