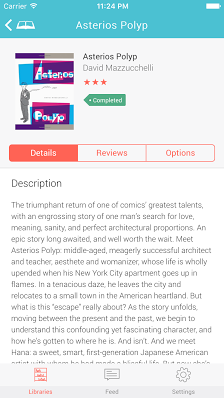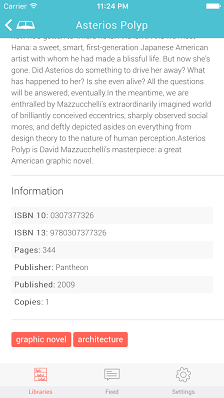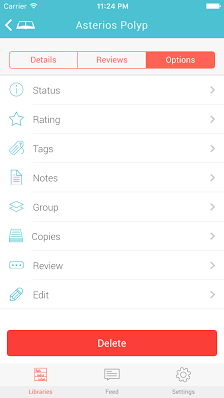 When an item is tapped, either from the search page or the item list page, you will be brought to the item's details.
Details, from here you can view cover art, description, metadata such as ISBN and pages, your ratings, tags and other options.
Reviews will take you to the review page within details. If you, or any other Libib users have left reviews for this item, it will appear here.
Options are where you can customize your metadata.
Status (not begun, in progress, completed, abandoned) as well as track the began/completed dates. You can add multiple status'.
Rate by half stars from 0.5 to 5.
Tag tags are searchable text within the app and website.
Notes allow you to create your own private notes about an item.
Group can let you place items in a logical grouping when sorting by title, such as series.
Copies the number of copies that you have of the item.
If you get an "ambiguous" error when attempting to reduce copies,
it means that the website has additional meta-data info (such as barcodes) that you will need to resolve before changing.
Review, reviews are publicly accessible at all times.
Edit the app will let you edit the title, creators, and descriptions.