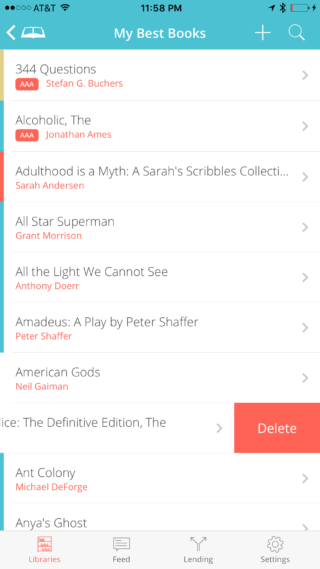 After tapping on the 
library
 you wish to explore, you will be presented with the 
item list
 page.
This will, by default, be an alphabetic list of your items by title. (Sorting can be adjusted in the apps settings).
The delete button is revealed when you swipe on an item. Deleting will not only delete the item off your app, but also in the cloud.
Groups are denoted by an orange box with the group name directly below the title.
In this case, "AAA". Groups only show up on title sorted lists, and all items within it will sort by the group name, instead of the title.
Groups can be set on the item's options tab.
The left border color denotes an item's status:
| | |
| --- | --- |
| Not Begun | Gray |
| In Progress | Yellow |
| Completed | Teal |
| Abandoned | Red |