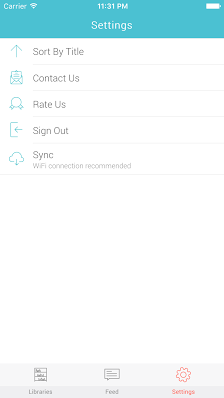 Sort By Creator
The sort by option has 3 choices on the app: Title, Creator (authors, directors, bands, platforms), and Date Added.
This only changes this setting on the app and not the website – the website has its own sorting mechanism.
Sort by is a global setting that affects all libraries.
Contact Us
This is a link to the website's contact page. Tapping this selection will open up a browser window.
Rate Us
This is a direct link to the App/Play Store where you can rate Libib.
We never have nag pop-ups, so please consider rating us!
Sign Out
Logs you out of the app.
Sync
Syncing the app forces all your most recent account data to be pulled down from the cloud.
Whenever you add an item or make a change on the website, it will not automatically reflect on the app.
You must sync the app to pull the latest data.
Any item additions or changes made on the app will automatically be pushed to the website.
No sync is required in that case.