Libib offers managers the option of two types of kiosks for patron self checkout:
Kiosk Web: A website kiosk, to be used on desktop and laptop computers with a physical barcode scanner. This article discusses the web kiosk.
Kiosk App: A mobile app for iOS and Android tablets. The app has a barcode scanner built into it.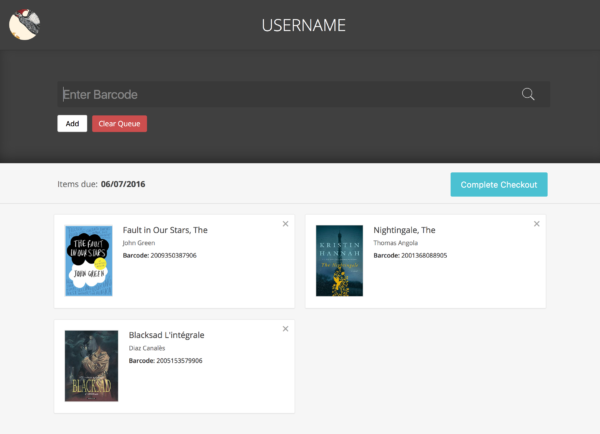 Libib offers a web kiosk mode which allows patrons to self-checkout using barcodes and a physical barcode scanner.
The kiosk requires barcodes (either ISBN/UPC or custom – which Libib automatically provides for every copy of an item). The custom barcodes can be printed out and affixed to each item to scan. You can export a csv list of barcodes by going to:
Settings > Libraries > Export barcodes
To turn on the web kiosk go to:
Settings > Lending > Kiosk self-checkout for Patrons
The options for kiosk self-checkout are:
Turn on Web Kiosk: This will create the url for a web kiosk for your library.
Kiosk Password Mode:
Low Trust: Require patrons to enter their own passwords.
High Trust: Create a shared password for all patrons.
Absolute Trust: No password required, just email or patron barcode number. We recommend that you use this setting when you are only using the Kiosk App and not the Web Kiosk, for security reasons.
Disallow self-checkouts on libraries: Prevents specific libraries from having its items checked out. Basically creating a reference library.
Once turned on, the kiosk will be available at:
https://username.libib.com/kiosk